Giving Your Vacation Rental or Small Hotel a Sense of Place
Ideas and lessons from a Designer Showhouse that will thrill your guests and make their stay a more personal experience
There's a reason people choose to stay in small hotels and properties or places like Airbnb: they want something local . . . special . . . inspiring. Yesterday, I visited the annual Atlanta Homes & Lifestyles Home for the Holidays Showhouse and discovered some things that I think are so doable for hosts and hoteliers.
Think about it: these are some of the top designers and their job -their purpose - is to create special spaces and homes for their clients.
And, the most special spaces and rooms are those that cause guests to FEEL something: relaxed, inspired, comforted, energized.
So, as I wandered through this beautiful home, camera in hand, my question to myself was, "what moments in this 8,000 sq ft house could rental owners, small inns and homeowners do themselves?"
To keep it (sort of) simple, I chose eight to share here. Even though these are tiny, vignette images, the designers of each space are listed.
THROWS ON ALL SEATING AREAS
Every seating area is begging for a throw. If it's winter, it simply belongs. If it is summer, many people are cold in air conditioning. Plus, it just feels comfy and home-like. Go buy some throws.
designers: Joel Kelly & Whitney Ray
FRAME SOMETHING PERSONAL
(But not too personal!) These framed recipes work perfectly and may give your guests an idea of something to do in their own homes. Or, you could frame old local magazine covers. Children's artwork from a local school (if your property attracts families), copies of favorite book covers, etc., etc.
designers: Lathem Gordon & Cate Dunning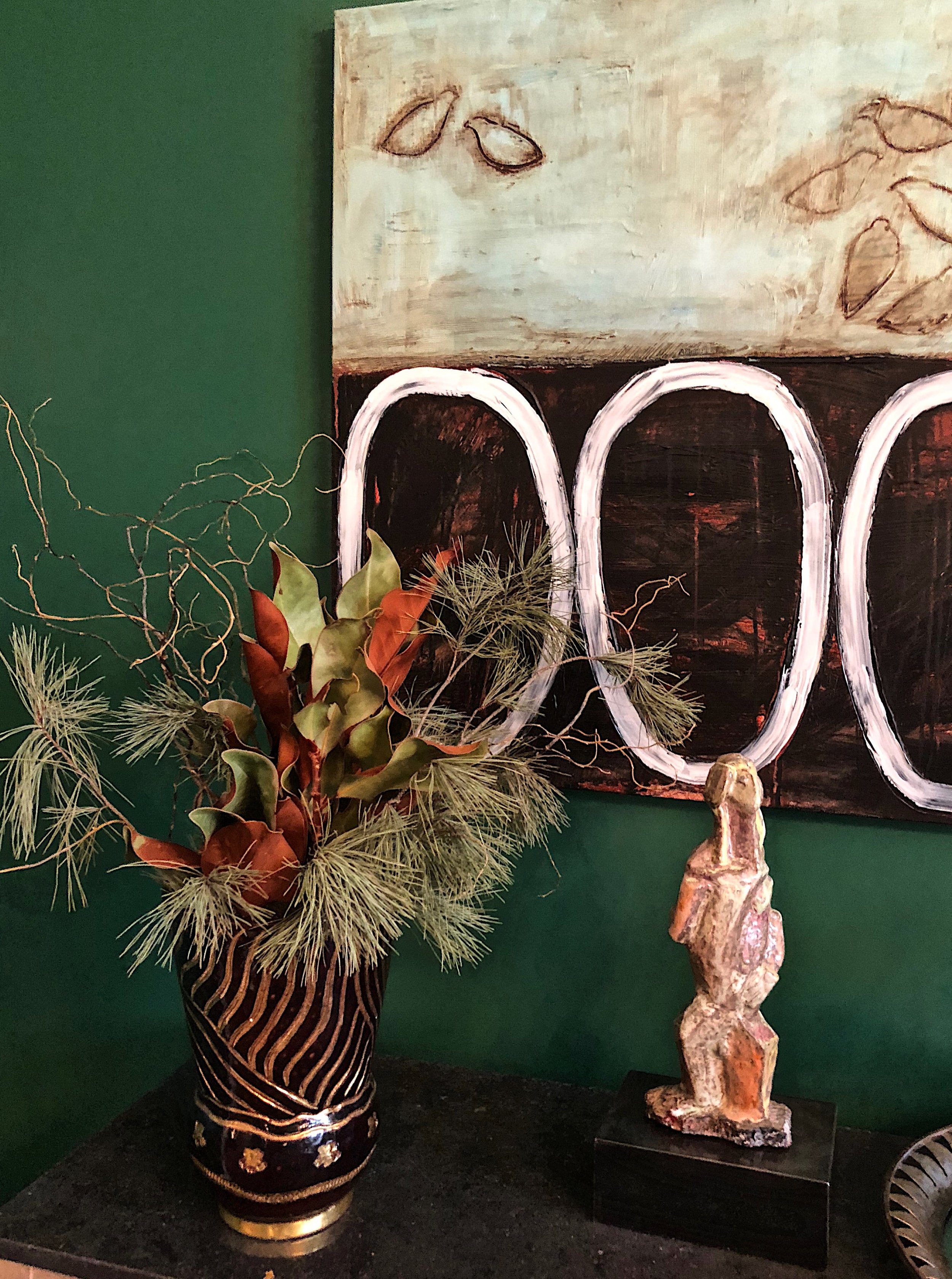 PLANTS/GREENERY - LIVE OR DRIED
You need a plant. In this showhouse, they used a lot of magnolia leaves (the South - the holidays) and evergreen, but baby's breath is fantastic if used right. Think about things that can dry and still be beautiful.
designer: John Fernandez
FILL THE (NON-WORKING) FIREPLACE
You could use logs or pine cones if you are in a mountainous area or it's the holidays. But also think books, pumpkins, beach balls, etc. Love this idea of baskets and containers.
designer: Lauren DeLoach
USE CREATIVITY WHEN DISPLAYING
These ping pong balls are almost a work of art in this bowl. If your room or lobby has something that is a bit generic and just functional, how can you make it interesting and instagrammable? Andyes, this is a fancy ping pong table.
designer: Kati Hardwick
THINK ABOUT THE DELIGHT
How cute is this? Remember, this was a holiday showhouse. It was on the desk on top of a book in one of the guest bedrooms. If it is the holidays and you have a property where families stay, why not do this? What a fun wow! (adults might like it, too.) What if you put it on top of a holiday book - Grinch, etc.?
designers: Jessica Roan and Mandy Mayers
INVITE YOUR GUEST TO READ — TO PLAY
Whether in your lobby or your rental, if you have the surface space and can pull out a game, it will invite use. If in a closet, it's nice as an amenity, but doesn't say, "sit here and play with me."
Not to mention, it's simply pretty.
designer: Kati Hardwick
BOOKS. BOOKS. BOOKS.
This is my personal favorite because if I stay in a boutique property or an Airbnb and there are no books, I am sooooo disappointed. Perhaps invite your guests to take a book and leave a book. I think EVERY SINGLE ROOM in this showhouse had books. And by the way, this image is in the closet!
If you have fancy books, sure, someone might take one as a "souvenir," but most people will just enjoy.
designer: Chris Socci
So, there you go. Make sure your guests and travelers feel special this holiday season.
Throws or wraps on your chairs, sofas, ottomans. When I found this at a small hotel 20 years ago, it changed my life.

Frame something about the area or about you. For example, handwritten recipe cards in the kitchen. Sheet music if a famous musician lived in your building. Old maps of the area.

Always try and have some sort of plant - live or dried. Magnolia leaves in the South, baby's breath, pine in the winter, etc.

If you have a non-working fireplace, fill it with something seasonal - pumpkins, battery-operated candles, logs, books, etc.

Find new ways of displaying basic items.

If it is the holidays and you have families staying with you (or not), take a piece of paper, write "Dear Santa," and leave the pen. Who wouldn't love that? In October, frame a quote from "It's the Great Pumpkin Charlie Brown" and set it on the desk. Your property is a bit more sophisticated? I've seen fabulous simple black and white postcards with Coco Chanel quotes; perfect in a bathroom or on the shelf in a closet.

If you have the surface space, set up a game. (best if it is an attractive version of the game - no old Monopoly boards!)

Books. I don't know of anyone who doesn't either love or at the very least appreciate, books in a space. Just make sure they make sense for where and what you are.
That's it! Make your spaces special. You will not only help your guests by creating amazing memories for them, but you also will encourage social chatter. (plus — it's fun)
ps (perspective shift)

think through the little things that you can display or arrange in a new way. look around and find three little moments that probably would never be noticed and change them up. help your guests know where they are when they wake up each morning.